Essential C# 4.0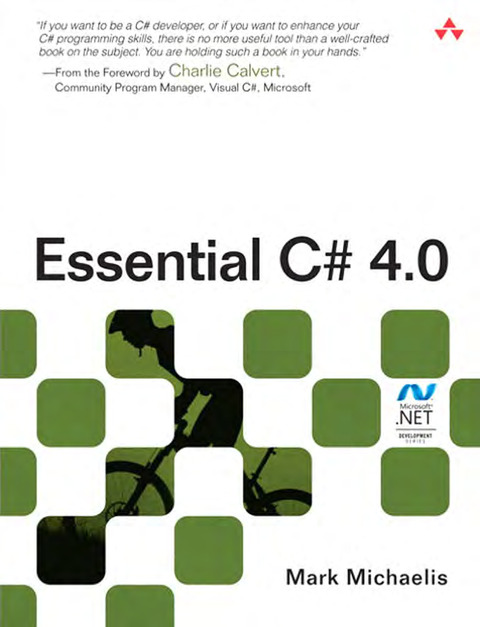 THROUGHOUT THE HISTORY of software engineering, the methodology used to write computer programs has undergone several paradigm shifts, each building on the foundation of the former by increasing code organization and decreasing complexity. This book takes you through these same paradigm shifts.

The beginning chapters take you through sequential programming structure, in which statements are written in the order in which they are executed. The problem with this model is that complexity increases exponentially as the requirements increase. To reduce this complexity, code blocks are moved into methods, creating a structured programming model. This allows you to call the same code block from multiple locations within a program, without duplicating code. Even with this construct, however, programs quickly become unwieldy and require further abstraction. Object-oriented programming, discussed in Chapter 5, was the response. In subsequent chapters, you will learn about additional methodologies, such as interface-based programming, LINQ (and the transformation it makes to the collection API), and eventually rudimentary forms of declarative programming (in Chapter 17) via attributes.

This book has three main functions.

1. It provides comprehensive coverage of the C# language, going beyond a tutorial and offering a foundation upon which you can begin effective software development projects.
2. For readers already familiar with C#, this book provides insight into some of the more complex programming paradigms and provides indepth coverage of the features introduced in the latest version of the language, C# 4.0 and .NET Framework 4.
3. It serves as a timeless reference, even after you gain proficiency with the language.

The key to successfully learning C# is to start coding as soon as possible. Don't wait until you are an "expert" in theory; start writing software immediately. As a believer in iterative development, I hope this book enables even a novice programmer to begin writing basic C# code by the end of Chapter 2.

A number of topics are not covered in this book. You won't find coverage of topics such as ASP.NET, ADO.NET, smart client development, distributed programming, and so on. Although these topics are relevant to the .NET Framework, to do them justice requires books of their own. Fortunately, Addison-Wesley's .NET Development Series provides a wealth of writing on these topics. Essential C# 4.0 focuses on C# and the types within the Base Class Library. Reading this book will prepare you to focus on and develop expertise in any of the areas covered by the rest of the series.
Table of contents:
Code: Select all
1  Introducing C#                                             1
2  Data Types                                                31
3  Operators and Control Flow                                83
4  Methods and Parameters                                   149
5  Classes                                                  201
6  Inheritance                                              269
7  Interfaces                                               305
8  Value Types                                              331
9  Well-Formed Types                                        357
10 Exception Handling                                       405
11 Generics                                                 421
12 Delegates and Lambda Expressions                         469
13 Events                                                   507
14 Collection Interfaces with Standard Query Operators      535
15 LINQ with Query Expressions                              589
16 Building Custom Collections                              611
17 Reflection, Attributes, and Dynamic Programming          651
18 Multithreading                                           701
19 Synchronization and More Multithreading Patterns         749
20 Platform Interoperability and Unsafe Code                815
21 The Common Language Infrastructure                       843
A  Downloading and Installing the C# Compiler and the
   CLI Platform                                             865
B  Full Source Code Listings                                869
C  Concurrent Classes from System. Collections. Concurrent  895
D  C# 2.0 Topics                                            899
E  C# 3.0 Topics                                            903
F  C# 4.0 Topics                                            905
Author:
Mark Michaelis
Year:
2010
Pages:
979
Index:
YES
ISBN-13:
978-0-321-69469-0
ISBN-10:
0-321-69469-4
Essential-C#-4.0.pdf [4.53 Mb]