So you've just installed photoshop ? Congrats to you on taking your first steps in the world of digital art !
But what do you do now ? where & how do you install additional fonts, brushes, shapes, etc ?
This is where this short tut comes in : it will hopefully give you some pointers on some basic ways to improve your software with additional content.
Let's get started
1 - Installing fonts
You basically have 3 choices :
a) - install the fonts in the
C:\Windows\Fonts
folder : the fonts will be usuable in every application that supports them, not just photoshop
b) - install them to
C:\Program Files\Common Files\Adobe\Fonts
: the fonts in this folder will be available only to photoshop
c) - if you have a lot of fonts, they can seriously slow down performance : so try the following tip from Thanx-4-Shr'n :
Use the viewer (...) and when I find one I want to use I install it temporarily using the viewer. You can then un-install all temp fonts with the same tool with a click of a button
You need a font viewer for this - check out the GFX resources section !
2 - Installing brushes
You can put your new brushes wherever you want ( I would suggest creating a folder called "brushes"
), but they won't show up in the menu in photoshop.
You need to load them in photoshop.
Select the brush tool, then follow the instructions in this little screenshot :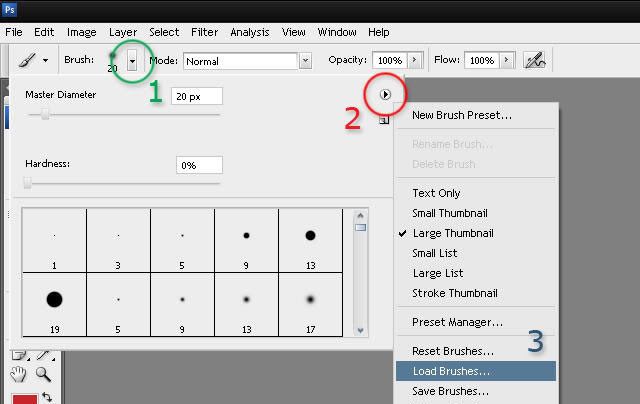 In the menu, you can press
load brushes
or
replace brushes
& find the brushes you saved before.
( if you want to be fancy, press
preset manager
: there you can add your brushes to the standard ones : that way, you won't need to keep loading them )
3 - Installing Plugins
Most plugins have an installation routine that makes this process very simple... but some of the older plugins do not.
Plugins are .8BF files - they need to be placed in
...\Adobe Photoshop CS2\Plug-Ins\Filters
& can then be accessed by the filter menu
4 - Installing shapes
This is similar to the method used for the brushes : select the custom shape tool, then follow the screenshot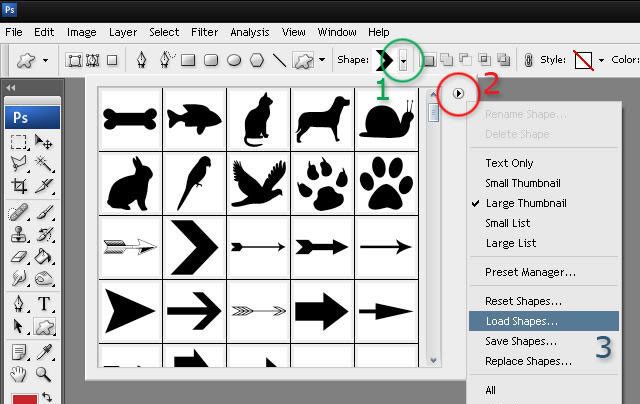 5 - Installing Layer styles
- Layer style files ( .ASL files ) - they go in
photoshop CS2\presets\styles
To use them, go to the blending options menu ( where you get the options for drop shadows & everything ), then follow my screenshot :