DVDStyler 3.0.2
DVDStyler is a cross-platform free DVD authoring application that makes possible for video enthusiasts to create professional-looking DVDs. It is Free software distributed under the GNU General Public License (GPL).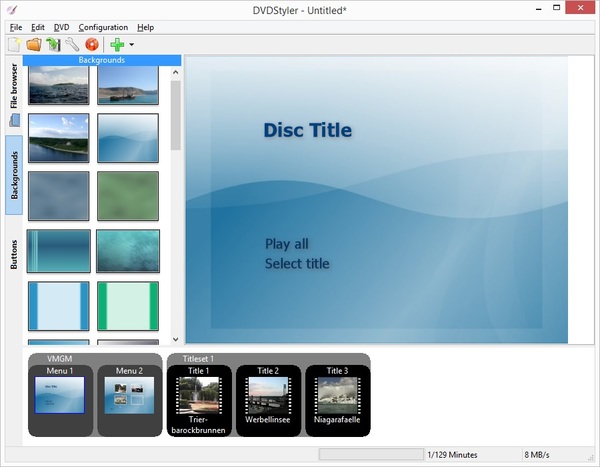 About

DVDStyler is a cross-platform free DVD authoring application for the creation of professional-looking DVDs. It allows not only burning of video files on DVD that can be played practically on any standalone DVD player, but also creation of individually designed DVD menus. It is Open Source Software and is completely free.

Features

create and burn DVD video with interactive menus
design your own DVD menu or select one from the list of ready to use menu templates
create photo slideshow
add multiple subtitle and audio tracks
support of AVI, MOV, MP4, MPEG, OGG, WMV and other file formats
support of MPEG-2, MPEG-4, DivX, XviD, MP2, MP3, AC-3 and other audio and video formats
support of multi-core processor
use MPEG and VOB files without reencoding, see FAQ
put files with different audio/video format on one DVD (support of titleset)
user-friendly interface with support of drag & drop
flexible menu creation on the basis of scalable vector graphic
import of image file for background
place buttons, text, images and other graphic objects anywhere on the menu screen
change the font/color and other parameters of buttons and graphic objects
scale any button or graphic object
copy any menu object or whole menu
customize navigation using DVD scripting
http://www.dvdstyler.org/en/
I will not distribute these files before I have tested them myself (not Windows user), as there are reports of bundled software/adware.
On fosshub it does have an explicit disclaimer that the downloads does not contain bundled software/adware, but I'm not going to share the files before I have a chance to check it out.
https://www.fosshub.com/DVDStyler.html
It's an excellent program, but apparently the developers tried to make an extra buck of Windows users, through optional bundled software in the installer.