Wilkinson kicks winning points in Toulon triumph
Toulon were crowned champions of Europe for the first time when, aided by the boot of Jonny Wilkinson, they came from behind to beat Clermont Auvergne 16-15 in an all-French Heineken Cup final.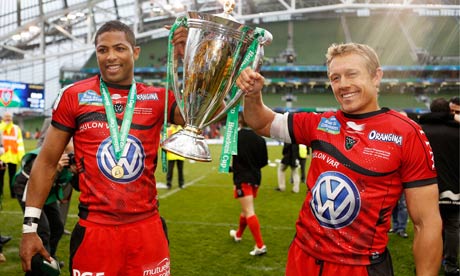 Outplayed for 60 minutes and seemingly out of the game after Clermont scored two tries in five blistering second-half minutes, big-spending Toulon stunned their rivals with a Delon Armitage try and a conversion by Wilkinson, playing in his first European final.

Ten years after kicking England to World Cup glory, Wilkinson collected the trophy at the Aviva Stadium following the conclusion of Toulon's second Heineken Cup campaign.

"Those guys are the best. They were dubbed mercenaries when they arrived here. They were never mercenaries," coach Bernard Laporte said in a television interview of his starting 15, just four of whom were Frenchmen.
Full story - Yahoo
Best team lost IMO, but still : was a cracking game of rugby
A tense & tactical first half, a more open game in the second, some pretty good tries and a very tight finish.
Glad Wilkinson finally won a club title as he's a great ambassador to the game... Delon Armitage though, not so much (high takles, acting like a twat with his wave to the opponents when scoring : I'd have clocked the f*cker
)