RM Auctions to Sell the World's Oldest Working Vehicle in October
By Jake Lingeman
By AutoWeek Sep 26, 2011 2:14PM
1884 De Dion Bouton Et Trepardoux Dos a Dos Steam Runabout. (Photo by RM Auctions.)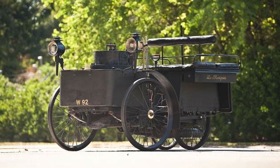 Every weekend around the country there's an auction selling a rare automobile or piece of ephemera that is priceless to collectors. But on Oct. 7, RM Auctions will be able to say it truly has something that's one-of-a-kind.
One of the first horseless carriages, the 1884 De Dion Bouton Et Trepardoux Dos-a-Dos Steam Runabout, will be auctioned off in Hershey, Pa. RM expects the car will bring $2 million to $2.5 million.
The 127-year-old Runabout, named La Marquise after de Dion's mother, is certified as the oldest running car in the world.